Renewable

Energy
Heppelthwaite provide "Green Building Solutions" having pulled together the groups wealth of knowledge in this field and operates a dedicated team specialising in offering a range of Renewable Energy Solutions.



Call 01628 533 550
Select a service

To discover further details please select the relevant renewable energy option from the list below.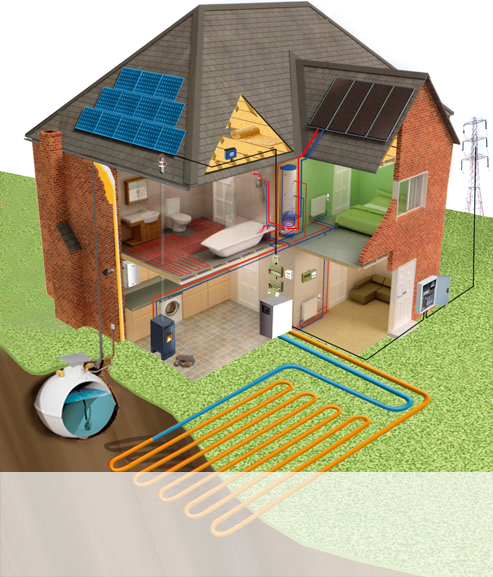 Welcome to the Heppelthwaite House
Use your mouse to navigate around the Heppelthwaite house and explore the different Green Building Solutions offered by Heppelthwaite.
It's never been a better time to go green. Learn how each solution can benefit you and see how Government incentive schemes can maximise your financial returns, whilst reducing your carbon emissions.
For advice on how these solutions can be used in your home please contact a member of our team.
Contact us
Explore the Heppelthwaite Green Home and learn of the benefits and savings to be made by investing in Green Building Solutions.
The Heppelthwaite house is modeled on a typical three bed property with four occupants. Savings are estimations based on industry data.
To learn of the potential savings in your property please contact us
Benefits of Green Solutions
With Government incentive schemes and reduced energy bills, earn returns on your investment far better than any bank
Reduce your reliance on fossil fuels and protect yourself from rising energy prices
Reduce your carbon footprint and minimise your impact on the Environment
Play an active role in the UK meeting its emissions target and help towards a sustainable future
Increase the value and sale potential of your property
Be proud to be Green!
Renewable energy is energy from a source that is not depleted when used, such as wind. A fossil fuel such as oil or gas can not be reused after it is burnt so therefore is not a renewable energy.
People have become too reliant on the use of fossil fuels and that supply is fast running out. The answer to all of these problems is renewable energy. Energy such as solar, wind energy and water power is generated from natural energy sources and unlike fossil fuels, these sources of energy never run out. Using renewable energy helps to protect our planet by reducing the amount of carbon emissions we produce. This source of energy has a much lower impact on the enviroment.
Being energy efficient can also have it's financial benefits and could reduce your energy bills. Furthermore, t
here are government financial incentive to promote the use of renewable heat, which includes the RHI (Renewable Heat Incentive). Switching to heating systems that use eligible energy sources can help the UK reduce its carbon emissions and meet its renewable energy targets.
Discover more about the Renewable Heat Incentive
Why use

Heppelthwaite
Your local family run plumbing and heating company since 1948
Transparent Pricing
Customers benefit from our transparent pricing and no hidden extras. We also invoice after the work is complete for your own peace of mind.
Gas Engineers
All our professional engineers are Gas Safe registered, experienced and receive ongoing training.
Customer service
Winners of the face of Which Trusted Traders 2015 competition and over 280 customer reviews on Checkatrade.