Have gas appliances checked annually (boiler service etc)

If you move homes request a gas certificate from the previous owners or the estate agent. If there isn't a certificate then have your home gas safety checked.

Never do DIY on gas appliances. Always use a gas safe engineer and check they are legal.

Know what the dangers and symptoms are.

Know what to do in an emergency

If your renting a property ensure your landlord has produced a gas certificate

Have a Carbon Monoxide alarm installed
IMPORTANT
We should all take gas safety in our homes seriously as faulty or poorly maintained gas appliances, such as boilers, can have disastrous and deadly consequences. The purpose of this gas safe article is to provide information and advice, and to offer our services to ensure your home is gas safe.
A few simple steps which are covered in this article will help keep you and your family, or tenants, safer!
What is Carbon Monoxide?
Carbon monoxide is produced when fuels such as gas, oil, coal or wood do not burn fully. When a fire burns in an enclosed space, such as a room, the oxygen is gradually used up and replaced with carbon dioxide. The fuel is unable to burn fully and releases carbon monoxide.
After breathing in carbon monoxide, it enters your bloodstream and mixes with haemoglobin (the part of red blood cells that carry oxygen around your body), to form carboxyhaemoglobin. When this happens, the blood is no longer able to carry oxygen, and this lack of oxygen causes the body's cells and tissue to die.
Symptoms of Carbon Monoxide Poisoning
Carbon monoxide is difficult to detect because it has no smell, taste or colour. Being aware of the symptoms could save your life as you can inhale it without realising.
6 main symptoms to look out for:
Headaches
Dizziness
Nausea
Breathlessness
Collapse
Loss of consciousness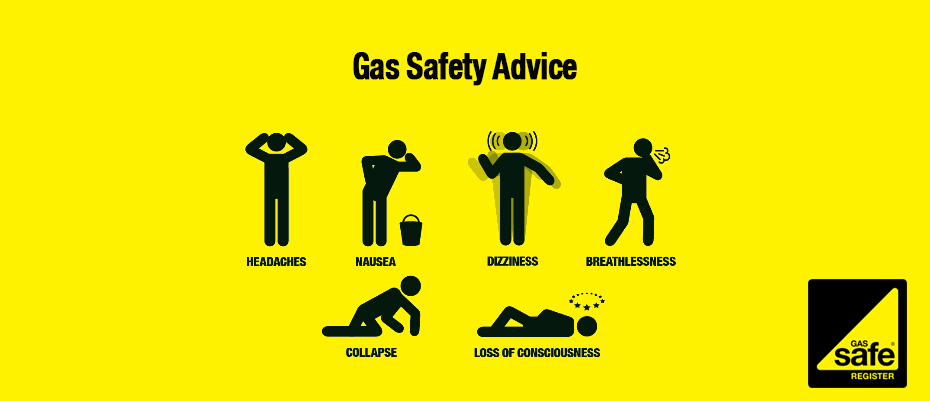 If you googled these symptoms then no doubt you'd find a whole bunch of illnesses with the same symptoms. However the key things to remember are do you only feel like this when you are at home, and do others feel these effects while at your home?
Based on NHS stats, every year in the UK over 200 people go to hospital with suspected carbon monoxide poisoning, which leads to around 40 deaths.
Stats from Gas Safe and NHS
5.5 million Brits fail to get an annual gas safety check, which could be putting their health and finances at risk.
67,000 gas emergency call outs last year in the UK.
1 in 6 gas appliances were found to be unsafe out of the 142,000 homes we inspected in the past 5 years.
40 deaths, 300 injuries and over 200 admitted to hospital last year based on NHS stats
If you rent your home, your landlord is legally obliged to arrange this for you every 12 months and must provide you with a copy of the gas safety record.
Suspect a gas leak?
If your carbon monoxide alarm sounds or you suspect a leak:
Stop using all appliances and isolate the gas (if you can).

Open all windows and evacuate the property immediately – stay calm and avoid raising your heart rate.

Call the gas emergency number on 0800 111 999 to report the incident or Health and Safety Executive (HSE) Gas Safety Advice Line on 0800 300 363. You can also call us if you have any concerns – 01628 533 550.

Do not go back into the property – wait for advice from the emergency services

Get immediate medical help – you may not realise if you're badly affected by the carbon monoxide and going outside into fresh air won't treat any exposure by itself.
Gas Explosions and Fires
Gas is naturally highly combustible. Correctly installed and maintained appliances ensure that the gas is burned in a save and controlled way to heat a home. Modern boilers also have safety devices which are designed to turn the boiler off if it detects a fault such as pressure issues or over heating. The chances of an explosion is rare as gas regulations, training and technology are more advanced.
* Always use a gas safe registered engineer and it's advisable to have an annual boiler service (maintenance/gas check).
Prevention
We certainly don't wish to scare anyone, and the chances of an explosion or carbon monoxide poisoning is low, however the purpose of this article is to provide advice so that you have the information in order to ensure / improve the safety within your home.
Has your boiler been regularly maintained and gas safe checked?
Was you boiler installed by a gas safe registered engineer and was it commissioned legally?
Is your central heating system exposed to any potential hazards?
How old is your boiler and when was it last checked?
Have you or anyone that is not a gas registered engineer ever worked on a gas appliance within your home?
Do you have a carbon monoxide alarm?
Are all the gas appliances certified / meet gas regulations?
Our advice is simple. Never do DIY work on gas appliances at your home, use a registered gas safe engineer. We also advise that you get your boiler checked annually and if you want to be extra safe then you should install a carbon monoxide alarm. Our engineers carry these on their vans so feel free to request they install one for you – click here for more info.
Feel free to contact us if you have any concerns or have any questions. There are many different types of gas and boiler services. To help guide you on boiler services, we have created an article on what to expect from a boiler service. Some services will provide a full comprehensive service, where others don't – see details below for further information.
BEWARE: Illegal Gas Fitters
It is shocking that recent studies from Gas Safe have raised concerns over the amount of illegal fitters and the amount of home owners that didn't even check for a local Gas Safe engineer. Watchdog have also recently reported on the issues, and if you think these illegal fitters are just in other towns, then think again! Just recently there have been articles in the local newspapers of so called local Gas Safe engineers being fined for illegal work that put home owners at serious risk.
28% didn't even check!
Gas Safe have issued a new press release around illegal gas fitters. Gas Safe recently surveyed 2,000 home owners and of those who have had gas work carried out in the last year, more than 1 in 4 (28 per cent) didn't even think about checking that the engineer was legal and on the Gas Safe Register. 1 in 6 even went on to admit that they would knowingly employ an illegal gas fitter if they came recommended. This is a worrying statistic as Gas Safe found from their investigations that 9 in 10 illegal gas jobs are not completed to the required standard, and one in five jobs were so dangerous their investigations officers had to switch the appliance off. Gas Safe are urging consumers to be more diligent when it comes to making sure their gas engineer is registered and qualified to do the work they need.
Recommendation – Annual Boiler Service | Gas Safety Check
It is highly recommended by boiler manufacturers and by the gas safety authority 'Gas Safe' that all gas fired boilers are serviced on an annual basis. This is predominantly to check the safe operation and test for gas leaks and Carbon Monoxide, but will also help improve the efficiency and extend the life of your appliance. Failure to annually service your boiler may also invalidate your manufacturers warranty. Regular maintenance can also help prevent a system breakdown, which can be expensive to repair.
It's the law for Landlords
In 1996 the government passed a law that requires all landlords, who rent either part or all of a property, to have all household gas appliances and pipes checked every 12 months with a landlord gas safety certificate to this effect.
PDF – HSE GUIDE TO LANDLORD GAS SAFETY
Landlord Gas Certificate Service
What does a Landlord Gas Safety inspection include?
Check appliance for gas tightness
Check standing and working pressures if test points are available
Check burner pressure/gas rate against manufacturers guidelines
Check for satisfactory provision of all necessary ventilation
Test flue flow to ensure removal of products of combustion
Check satisfactory operation of all the flame failure devices
Check for physical stability, presence and effectiveness of stability brackets (where appropriate)
Investigate any evidence on unsafe operation and report to the person responsible.
Heppelthwaite the Red Van Plumbers provide a dedicated service to landlords which includes an annual reminder and further discounted rates when combined with a boiler service.
Boiler Service: It's always worth checking what a boiler service includes, unlike some plumbing and heating companies we don't just do a flue analyser check, we provide a full comprehensive service. Our boiler service takes approx 1 hour, the gas safe engineer will remove the front panel, undertake a number of checks, clean parts and then replace the panel leaving the boiler in good working order. They will also provide a report which includes any advisories or serious issues. Having a boiler service will help prevent major boiler issues, which may save customers money by avoiding expensive repair bills. In some cases a service is also required to validate the warranty, but above all, a boiler service is recommend to ensure your safety. Read more
Gas Certificates: Homeowners can have their gas appliances checked and a certificate produced. It's advisable to has a boiler service at the same time, which will provide a good saving. For Landlords the law requires all household gas appliances and pipes are checked every 12 months with a landlord gas certificate. Read more
Boiler maintenance and repair: From time to time a boiler may have a fault. Our Gas Safe engineers are specialists in diagnostics and repair. We also have a dedicated customer care team to ensure any parts required are sourced as quickly and cost effectively as possible.
Kitchen appliances: Installing a gas cooker and other kitchen appliances will require a Gas Safe engineer.
Central Heating / Radiators: Our service includes installing radiators, towel rails, valves and other heating products, we have Gas Safe engineers that undertake this kind of work on a daily basis.
Boiler Installations: With over 50 years in the Plumbing and Heating Business we know what's hot and what's not. Heppelthwaite the Red Van Plumbers are "approved installers" for not just one manufacture but for multiple leading manufactures such as Worcester Bosch (Platinum), Glow Worm, Ideal, Vaillant and more. All manufacturers we use have a proven history of reliability, performance and customer services. Our Gas Safe engineers are experienced and fully qualified to install central heating systems. We also offer 3 x boiler finance options. Read more
Carbon Monoxide Alarms: If our engineer is at your property then why not ask him to install a Carbon Monoxide alarm for you. Read more.
Our Standards
Heppelthwaite the Red Van Plumbers go above and beyond what's expected from us and we actively support associations and organisations that improve the image, safety and standards of the Plumbing and Heating industry. As well as being Gas Safe registered we are also registered and/or approved by Oftec, MCS, WHICH? Trusted Traders and Check a Trade. We are accredited installers for many manufactures including Worcester Bosch (Platinum), Glow Worm, Vaillent, Ideal, Honeywell, OkoFen and Grants to name just a few.
Our Gas Safe
Registered number 11304