Trusted Plumbers: Face of WHICH Trusted Traders
Heppelthwaite The Red Van Plumber are proud to announce our success in being awarded the prestigious title of the Face of Which? Trusted Traders.
Confident that over 50 years spent developing an outstanding plumbing and heating service would count for something, Heppelthwaite the Red Van Plumbers entered the "Face of Which? Trusted Trader" competition. Heppelthwaite the Red Van Plumbers, a local family run company based in Bourne End, near High Wycombe, Bucks are 1 of 3 companies to win the competition.
Heppelthwaite The Red Van Plumbers signed up to Which? Trusted Traders to show that it was confident to allow customers the opportunity to provide an honest review of their plumbing and heating service. Ensuring that the customer is always in control, Heppelthwaite are transparent in everything it does, from pricing, to being thorough, communicating effectively and providing specialist aftercare. Customers are only invoiced once the work is complete, which provides the customer with further peace of mind.
Our Trusted Plumbers are Recognised by Face of  Which
The entire team are proud to win the Face of Which? Trusted Traders competition and to have our services recognised by such a respected organisation. The plumbing and heating industry can be chaotic at the best of times, however Heppelthwaite have an experienced and dedicated customer care department. An operator will take ownership of a call and manage the customers requirements to a satisfactory conclusion. They have a team of qualified general plumbers and Gas Safe heating engineers, and can react to emergencies and planned renovations and services alike. In the instances where parts are required to fix the problem, Heppelthwaite understand that the majority of customers will want it resolved the same day. The customer care operator and plumbing engineer will do everything possible to ensure this happens. However, if it can't be fixed that day, Heppelthwaite have a "priority team" that will organise a repeat engineer visit at the customer's earliest convenience. All the Heppelthwaite Red Van plumbing and heating engineers have tracked vehicles, mobile phones and tablets so that the team can communicate and ensure the customer experience is a good one.
Heppelthwaite don't pretend to be perfect and from time to time have issues to resolve like all businesses do. However, the entire team are passionate, experienced and reactive to issues ensuring as little inconvenience to the customer as possible. Being able to monitor the location of the Red Van Plumbers vans ensures the team can be reactive in co-coordinating all engineers effectively and communicate with the customer in the unlikely event of a delay. A constant review of the service, combined with new initiatives has enabled the company to improve its service year by year, this is why the company have a huge repeat customer and recommendation rate. A great reputation and customer relationships are key to the success of the company and this is something in which we take great pride.
The Which? Trusted Traders Team have said "All consumers want outstanding customer service from tradespeople so we set out to find three 'faces' for Which? Trusted Traders who advocate this customer-focused approach. Our three competition winners demonstrated that they go the extra mile to delight their customers and are already seeing the benefits to their business.
The website moderation team at Which? is lucky enough to read thousands of positive reviews about Which? Trusted Traders. Most often, reviewers praise a contractor's good advice, expert workmanship and fair pricing. Nonetheless, when we launched our search for the 'faces' of Which? Trusted Traders, we were bowled over by the number of companies that told us about how customer service is at the very heart of their business – for both personal and strategic reasons. We are happy to share our three amazing winners!"
Darren Blunn is the engineer in the photos and a face of Which? Trusted Traders. However, it is a 100% team effort.  All the engineers and staff working at Heppelthwaite the Red Van Plumbers make the company what it is today. Heppelthwaite are delighted to have won the Face of Which? Trusted Traders competition.
Local press have also been showing support for this great achievement of a local business – Maidenhead Advertiser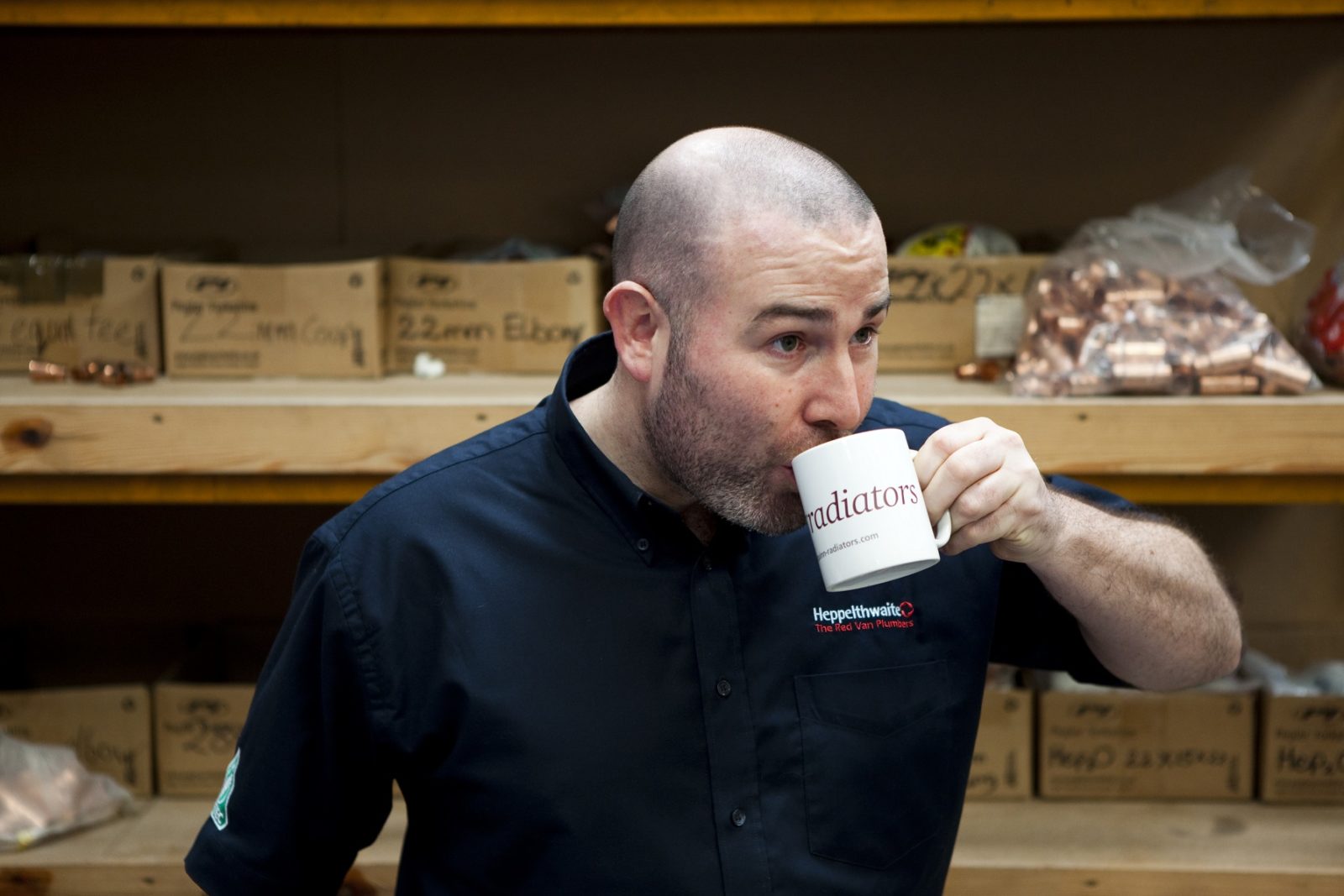 Darren looking very busy in the warehouse
Your Local Plumbing and Heating Company Since 1948
Heppelthwaite, The Red Van Plumbers, is a division of the Evans Group, and are dedicated to plumbing and heating improvements, service and maintenance for the domestic, commercial and contractual customers. The company offers a comprehensive range of services from the installation of a complete central heating system to fixing a leaky tap, and specialises in renewable energy.  Customers range from home owners, tenants and landlords to councils, schools and hospitals. No job is too big or too small. Learn more about the company – ABOUT
ACCREDITATIONS / AWARDS / REVIEWS
Discover more about the standards set by our team. We are second to none!