A-Rated Boilers
The Red Van Plumbers are passionate about green technologies and we offer a full range of solutions through a dedicated division "Heppelthwaite Green Building Solutions". Biomass boilers, A-rated boilers, solar and more – we provide the best solutions.
In most home and business property heating systems a boiler heats the water, which is then pumped around the property to radiators, and also provides the hot water to kitchen and bathroom taps. According to research, your boiler accounts for up to 60% of what you spend annually on energy bills. Upgrading to an efficient condensing boiler can make a massive impact to your fuel bill and carbon emissions. By extracting heat from the flue gases, modern A-rated condensing Boilers are now over 90% efficient.
In the UK, boilers are rated A-G. The A-rated boilers are considered as the most energy-efficient, with the G-rated boilers at the bottom of the pile as the least environmentally friendly. Installing a highly efficient A-rated boiler is one of the best investments you can make, as the long-term benefits in savings on energy bills are considerable. This, together with the reduction in carbon emissions makes A-rated boilers essential in any property.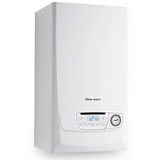 The Benefits of a Modern A-Rated Boiler
Significantly reduce fuel bills and carbon emissions.
Boilers account for around 60% of home energy bills, so installing an efficient boiler can account for a substantial saving over its lifetime.
Many of the modern A-rated condensing boilers come with a 5 year warranty.
Modern boilers are better designed, making them easier to maintain and repair.
A-rated modern boilers are often smaller, freeing up valuable space in the property.
Potential benefits from the RHI (Renewable Heat Initiative).
Replacing your old boiler with a modern A-rated condensing boiler can prove to be highly beneficial to your month-on-month costs as well as your energy-efficiency. Together with playing your own part in the protection of our planet, you will be saving noticeable amounts of cash – justifying the moderate initial investment in replacing an existing boiler system.
A modern condensing boiler has a larger heat exchanger, and as a result it recovers much more heat, and sends the cooler gases through the flue. Often, these flue gases are cool enough so that the water vapour condenses out, which is where the term "Condensing Boiler" actually comes from. When this process occurs, energy is recovered via the vapour, and the energy-efficiency of the boiler improves even more.
Products and Offers
We have teamed up with the leading manufactures to ensure we are able to provide our customers the best option for their homes, and at amazing prices.
Please check out our latest offers, and review some of the boilers we are able to provide:
For more information on A-Rated boilers or any of our plumbing and heating services, please call 01628 533 550. Alternatively click below and book an appointment online.